Imagination Fair Button Stickers
2020 buttons | 2019 buttons | 2018 buttons | 2017 buttons | 2016 buttons | 2015 buttons | 2014 buttons
The Imagination Fair does not rank projects or award ribbons.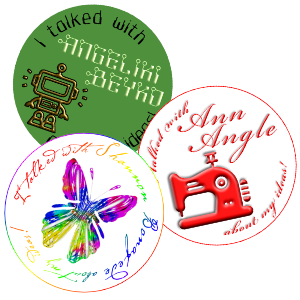 Instead, exhibitors receive a colorful button sticker on their participation certificates from every 5-Minute Mentor who talks to them.
Our goal for the button stickers is to threefold: to create button stickers that are visually interesting which in turn create participation certificates which are both striking and unique to each exhibitor's experience all while giving the kids a sense of who their 5-Minute Mentors are.
Button stickers typically include:
The name of the 5-Minute Mentor.
The phrase "I talked with … about my ideas!"
An image that represents the 5-Minute Mentor.
The 5-Minute Mentor's title (educator, mom, philosopher, scientist, engineer, etc.).
Titles are entirely optional but well-chosen titles are a handy way to let the Exhibitors know a bit about who their 5-Minute Mentors are.
Information for 5-Minute Mentors
While Nic is happy to design these button stickers, 5-Minute Mentors are encouraged to use their own original designs!
• Designs must fit on an Avery 5293 1⅔-inch round label.
• Make the background a bit larger to be sure there's no white edge.
• Any image file format is acceptable (bpg, gif, jpg, pdf, png, psd, pxm, svg, tif, etc.).
Nic can also work with logos, other images, or an image suggestion to design a unique button sticker that reflects who you are.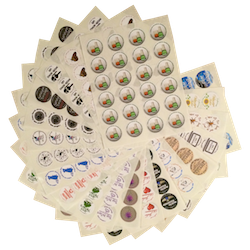 To allow time for formatting and printing, 5-Minute Mentors should plan to submit button sticker original designs, images, or design requests at least 1 week prior to the Imagination Fair.
The Imagination Fair will provide each 5-Minute Mentor with a sheet of 24 button stickers to use at the Imagination Fair.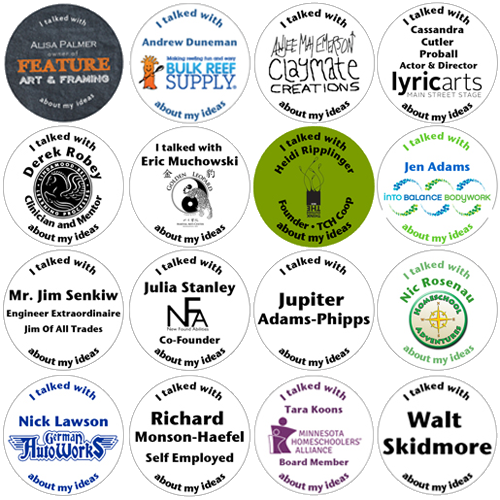 Groups: