Imagination Fair Exhibit Catalog Advertisements
2019 advertisers | 2018 advertisers | 2017 advertisers | 2016 advertisers | 2015 advertisers | 2014 advertisers | prices & sizes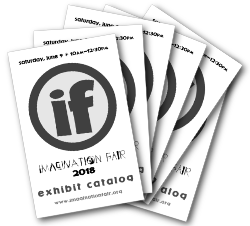 Connect with homeschool families!
Support the Imagination Fair!
Help keep participation fees low!
You can help keep participation fees low for exhibitors at the Imagination Fair while promoting your organization to homeschoolers and their friends and families with an Exhibit Catalog advertisement!
We expect to have 40 to 50 exhibitors signed up for the 2019 Imagination Fair and to have 150 to 200 people attend.
The Exhibit Catalog is designed to be a quality keepsake item!
Benefits
No need to print your flyer yourself!
Your ad is included when we print the Exhibit Catalog!
No need to drop off pre-printed material!
Just email us your print-ready image in the file format that works best for you! We'll accept bpg, gif, jpg, pdf, png, psd, pxm, svg, tif, etc.
Pay via check or PayPal.
Whichever is more convenient for you!
Consider including a special offer for Imagination Fair guests to bring increased attention to your ad!
The Exhibit Catalog will be printed in gray scale.
Online exposure included!
All advertisements will also be posted at imaginationfair.org/advertisers-2019 and will remain online for at least one year (until at least May 18, 2020). Your online ad may be in full color!
All advertisements will also be included in a photo album on the Imagination Fair's Facebook page.
And all advertisements will be tweeted on the Imagination Fair's Twitter page.
You may submit a separate design for Facebook and Twitter!

Image optimization for social media can be frustrating, in part because it seems to be always changing. If you are unhappy with the way your original social media design displays on Facebook or Twitter, you may send us a replacement design.

Tweets will say, "Thanks to @[your-username] for supporting Imagination Fair 2019!" and will link to your ad at imaginationfair.org/advertisers-2019. Phrasing may be adjusted to accommodate character limit.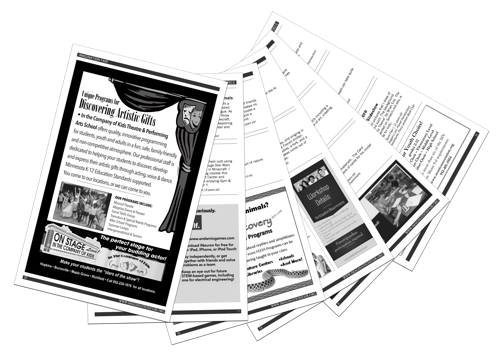 Advertising prices for Exhibit Catalog Advertisements:
eighth-page — $12
2⅜-inches wide by 1¾-inches high
or $6 for online-only at 333x245 pixels
quarter-page – $22
5-inches wide by 1¾-inches high
or $11 for online-only at 700x245 pixels
half-page – $42
5-inches wide by 3½-inches high
or $21 for online-only at 700x490 pixels
three-quarter-page – $62
5-inches wide by 5½-inches high
or $31 for online-only at 700x770 pixels
To place an advertisement, please email a print-ready image (or images) to imagine(at)hsadventures.org While we would lke to receive all advertisements at least 2 weeks prior to Imagination Fair, ads will be accepted up until the Exhibit Catalog goes to the printers — so it's never too late to ask!
The Imagination Fair will accept (just about) any file format that works for you (bpg, gif, jpg, pdf, png, psd, pxm, tif, etc.).
When your submission is received, you will be emailed an invoice with instructions for submitting payment.
Obviously, once the Exhibit Catalog has gone to the printers, we can no longer accept submissions!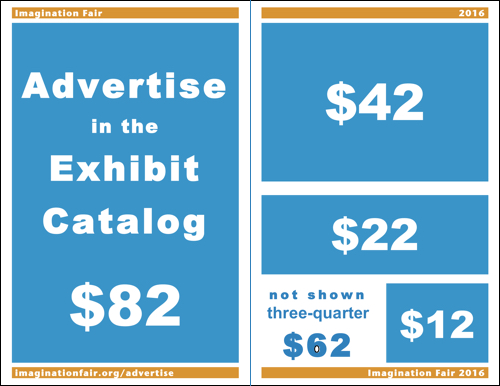 Sponsor the 2019 Imagination Fair! $199 includes a full page back cover ad in the 2019 Exhibit Catalog and a 300x300-pixel web footer ad that will appear as a footer on each page of this website that is related to the Imagination Fair!
---
Frequently Asked Question

Q: Can you design the ad for me?

A: Nic is an organizer, not a designer, but she'll give it a go for an additional $10 design charge which includes a maximum of two minor revisions. Minor means she'll make adjustments not completely redesign. If you are still unhappy with your ad after two revisions, she'll return the design fee to you. Check out the sorts of ads that Nic designs.
Groups: