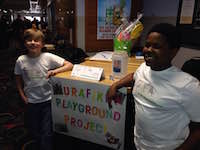 The Urafiki Volunteer Project, from the Swahili word for friendship, is two area homeschooled kids, Cody and Harrison, raising money for much needed supplies and well deserved toys for the children at the Living Water Children Centre.
Located in Arusha, in the northern part of Tanzania, Living Water Children Centre provides a home to over 50 orphans and children from less fortunate backgrounds. It was established in 2003 after Anza Kimaro met a 6-year-old child living on the streets. The Kimaro family renovated their home to accommodate children who urgently need a safe home. Some are children with disabilities whose families are unable to care for them, some have lost one or both parents, and some have family who are just too poor to be able to feed and clothe them.
There are over 1 million orphans in Tanzania with numbers increasing daily due to the HIV/AIDS and the Malaria pandemic. While some orphaned children can be integrated into extended families, the lack of resources and education mean that many of these children end up living on the streets fending for themselves.
This is a great opportunity to help these kids and other children that unfortunately may someday need the safety of Living Water Children Centre. The supplies and toys will will be a big help to the Kimaro family who have dedicated their lives to helping kids in need. Please help Cody and Harrison show the Kimaros just how much what they are doing matters. Be a part of turning the lives of these children into something worth smiling about.
Watch Cody's Dec 26 interview on WCCO

Read about Cody in the Sep 17 Sun Current
Cody and Harrison plan to bring their donations to Living Water Children Centre themselves and volunteer there during the summer of 2015.
Urafiki wetu unapendeza iga kama utaweza.
Our friendship will be beautiful if you make it so.
Bora siku ya kuunga urafiki kuliko ile ya mlimo.
A day devoted to friendship is more precious than one given to work.
---
Wednesday, April 1, 2015 -

1:30pm

-

2:30pm
Calhoun Square
3001 Hennepin Ave S
Minneapolis, MN 55408
This fundraiser has been cancelled as the event did not meet the minimum attendance requirement before ComedySportz's cancellation-without-penalty deadline. Continuing forward would have meant risking losing a considerable amount of money rather than raising it. All payments via PayPal have been refunded. All payments by check have been voided and shredded. Please considering donating directly to the Urafiki Volunteer Project.
Location