April Fools Improv Show CANCELLED
When:
Wednesday, April 1, 2015 -

1:30pm

-

2:30pm
Where:
Location
3001 Hennepin Ave S
Calhoun Square
Minneapolis
,
MN
55408
United States
44° 56' 51.108" N, 93° 17' 51.6156" W
Who: Good clean fun for the entire family.
Bring your grandparents! Your aunts! Your uncles! Your friends! Your neighbors! Total strangers!
How much:
Cost for Adults: $9.00
Cost for Children ages 3 and up: $7.00
Cost for Lapseats for children under 3: $0.00
Cost for Extra karma!: $1.00

Please register by: Saturday, February 28, 2015 - 10:00am
---
Description
This event has been cancelled.
Sadly, the event did not meet the minimum attendance requirement before ComedySportz's cancellation-without-penalty deadline. Continuing forward would have meant risking losing a considerable amount of money rather than raising it.
All payments via PayPal have been refunded. All payments by check have been voided and shredded. If you have any questions, please contact the organizer.
Urafiki wetu unapendeza iga kama utaweza.
Our friendship will be beautiful if you make it so.
The Urafiki Volunteer Project, from the Swahili word for friendship, is two area homeschooled kids, Cody and Harrison, raising money for much needed supplies and well deserved toys for the children at the Living Water Children Centre.
Located in Arusha, in the northern part of Tanzania, Living Water Children Centre provides a home to over 50 orphans and children from less fortunate backgrounds. It was established in 2003 after Anza Kimaro met a 6-year-old child living on the streets. The Kimaro family renovated their home to accommodate children who urgently need a safe home. Some are children with disabilities whose families are unable to care for them, some have lost one or both parents, and some have family who are just too poor to be able to feed and clothe them.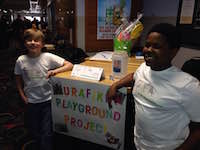 There are over 1 million orphans in Tanzania with numbers increasing daily due to the HIV/AIDS and the Malaria pandemic. While some orphaned children can be integrated into extended families, the lack of resources and education mean that many of these children end up living on the streets fending for themselves.
This is a great opportunity to help these kids and other children that unfortunately may someday need the safety of Living Water Children Centre. The supplies and toys will will be a big help to the Kimaro family who have dedicated their lives to helping kids in need. Please help Cody and Harrison show the Kimaros just how much what they are doing matters. Be a part of turning the lives of these children into something worth smiling about.
Cody's Dec 26 interview on WCCO:
Read about Cody in the Sep 17 Sun Current
Cody and Harrison plan to bring their donations to Living Water Children Centre themselves and work at the Centre as volunteers during the summer of 2015. (The fundraiser to cover airfare for the volunteers has been fully funded, primarily through family contributions and second-hand sales.)
Bora siku ya kuunga urafiki kuliko ile ya mlimo.
A day devoted to friendship is more precious than one given to work.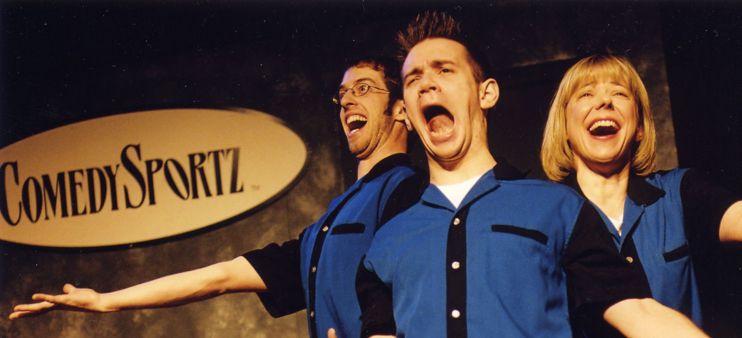 ComedySportz is improvisational comedy played as a sport! Actors compete for the biggest laughs while a referee calls the fouls and gets suggestions from you, the audience!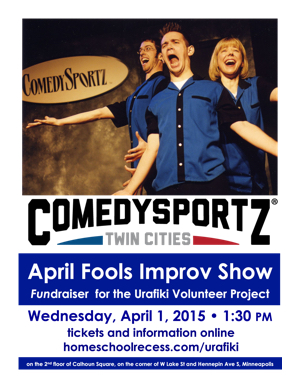 ComedySportz is light-hearted insanity that appeals to people from every walk of life with clean, positive entertainment that is guaranteed to please even the toughest crowd. If you have a pulse, it's highly likely that you'll laugh until it hurts. If you don't have a pulse, seek medical attention immediately.
Everything is improvised — no scripts, no pre-planned scenes. A ComedySportz match wouldn't be possible without your suggestions, and volunteers from the audience will be invited on stage to help with the show.
Regular prices for evening ComedySportz shows are $14/adult and $12/child.
---
Urafiki Volunteer Project
A portion of each ticket sale will go to support the Urafiki Volunteer Project with all proceeds going towards the purchase of and transportation costs for supplies and toys for the children at the Living Water Children Centre.
Nic's son, Séamus, wants to help his friends, Cody and Harrison, achieve their fundraising goals.
---
Payment information
Payment must be received by: Tue, Mar 3, 2015 - 5:00pm
Please plan to send your payment the same day that you register.

The organizer will expect to receive your payment within 3 days of your date of registration — or by the payment deadline above, whichever comes first.

Immediately after you register, you will be emailed payment instructions from admin(at)homeschoolrecess(dot)com.

Make sure your email filters recognize this address as a legitimate sender. If you don't receive this email, please check your spam, junk or bulk mail folder. Contact the organizer if you are unable to find it; if you receive no response to your email, please call the organizer.

You are not officially registered until the organizer receives your payment.

When the organizer records your payment, you will be emailed a payment receipt from admin(at)homeschoolrecess(dot)com.

If you've sent your payment and haven't received a payment confirmation, please contact the organizer by email or phone.

If the organizer doesn't receive payment within 3 days of your date of registration or by the payment deadline, whichever comes first, the organizer may remove your family from the registration list.

You will be notified with an email from admin(at)homeschoolrecess(dot)com should this unfortunate event occur.

If you are unable to send payment immediately, please contact the organizer to make other arrangements. This protects the organizer from non-payment due to payment instructions blocked by overly aggressive spam protection.

If you need to cancel your registration, please do so via an email request to the organizer.

Non-payment is not an acceptable way to cancel your registration. If you wish to cancel, please be respectful of the volunteer organizer's time and send an email request.

If you fail to send a cancellation request by the cancellation deadline, you will remain responsible for reimbursing the organizer for the cost of your family's participation.

To help the organizer identify you in the registration database, please include your username and field trip number along with any requests. This information can be found in your payment instructions email message and on the registration form on this page.
---
Cancellation information
Cancellation deadline: Sat, Feb 28, 2015 - 10:00am
TO CANCEL BEFORE THE DEADLINE: 
(1) Please let the organizer know as soon as possible via email. 

TO CANCEL AFTER THE DEADLINE: 
(1) No refunds can be made after the cancellation deadline. 
(2) You may transfer your tickets to another family, but any reimbursements should be handled privately between you and your substitute. 
(3) Please let the organizer know about any transfers! 
 
TO CANCEL ON THE DAY OF THE EVENT: 
Please let the organizer know if you are unable to attend — via email, text message or voice mail. 

---
Additional information
Please arrive by:
Please plan to arrive no later than 1:15pm in order to have plenty of time to find parking, check in with the organizer, visit the bathrooms and otherwise prepare for our program to start promptly at 1:30pm. Please plan to be early to avoid being late due to inadequate maps, confusing road signs, road construction, heavy traffic, parking difficulties, inclement weather or uncooperative children. If you find that despite your best efforts, you are running unavoidably late, please let an organizer know! You may reach the organizers by phone or text message on the day of the event.
Where to meet:
Please meet the organizers outside the theater doors on the second floor of Calhoun Square. Please retrieve your receipt from an organizer when you arrive as this is how they will check-in participants. 
Food policy:
Concessions will be sold, including coffee, soda pop, snack foods and candy for $1 to $2 an item.
Parking information:
Enter the Calhoun Square parking ramp at Girard Avenue from 31st or Lake Street.The ramp is automated. You may pay with cash or credit card at a pay-on-foot station or you may use the credit card in-and-out method. Please check http://calhounsquare.com/parking/ for current parking rates.
Directions:
Calhoun Square is located at 3001 Hennepin Ave S, which on the corner of Lake and Hennepin in Minneapolis. It is about 1-1/4 miles south of the Lyndale/Hennepin Exits from I-94 and about 1-1/4 miles west of the 31st St exit from I-35W north. 

Detailed driving directions can be found at http://www.comedysportztc.com/directions.php

ComedySportz is located on the second floor of Calhoun Square. 
---
Please login to register for this field trip.
If you have already registered for this field trip, please login to view your current registration status.
---
Groups: