NaNoWriMo YWP (National Novel Writing Month's Young Writers Program) Support Group
When:
Repeats every week until Tue Dec 04 2018 .
Tuesday, November 6, 2018 -

1:00pm

-

3:00pm
Where:
Location
3300 Edinborough Way, Suite 206
Edina
,
MN
55435
United States
44° 52' 32.2104" N, 93° 20' 5.532" W
Who: While NaNoWriMo is for all ages (including parents), this support group's activities will be based on the NaNoWriMo's YWP High School (9th­-12th grades) Curriculum. Adult supervision is not provided. Parents may participate with their children. Parents who do not wish to participate may stay in the classroom and assist. Parents of students younger than 12 should remain in the Edenborough complex during the workshops or recruit another parent to be their children's on-site responsible adult. Parents who drop off their teens affirm and acknowledge that their teenagers are capable of being responsible for themselves.
Parents are asked to use their best judgement as to whether or not their non-participating children will be disruptive to the program.
How much:
Cost for Young Writers: $0.00
Cost for Adult Writers: $0.00
Cost for Adult Assistants: $0.00
Cost for Non-Participating Siblings in Attendance: $0.00

---
Description
Meets weekly on Tuesdays, November 6–November 27 with a "Thank Goodness It's Over Party" on Tuesday, December 4, 2018.
Gathering space is generously provided by Lindamood-Bell Learning Center, located inside Edinborough Corporate Center, which is connected to Edinborough Park, home to Adventure Peak indoor play structures. We will be meeting in the 3rd-floor training room of the Edinborough Corporate Center.
Write your novel!
Join other young writers at this NaNoWriMo's Young Writers Program support group for support, encouragement, and advice with weekly novel writing workshops.
The support group meets on Tuesday afternoons, from 1 pm to 3 pm: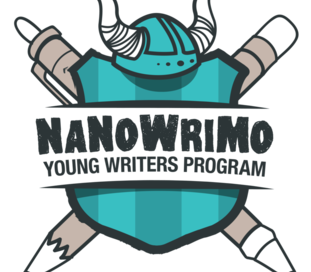 If these dates, times or plans don't work for you, you are encouraged to set up your own NaNoWriMo YWP support group!
Group size is limited to a maximum of 15 young writers, so be sure to sign up!
National Novel Writing Month
You start writing your novel on November 1 and finish by midnight, November 30.
The focus for November is exclusively on story creation. There is to be no correction of grammar, punctuation, or spelling during the month of November. For one month, you get to lock away your inner editor, let your imagination take over, and just create!
Because the focus is on story creation, if your child struggles with handwriting or typing, dictation is a perfectly acceptable method of getting the story down on paper — provided that transcribers also commit to locking away their own inner editors for the month of November and faithfully record the story as it is told.
For the purposes of NaNoWriMo, a novel is "a lengthy work of fiction." You decide whether what you're writing falls under the heading of "novel." While NaNoWriMo sets the minimum length for adults to be 50,000 words, kids set their own Word-Count Goals. Your Word-Count Goal for NaNoWriMo's YWP is completely unique to you. You should take into account your writing experience, your schedule (how much time you'll really be able to spend writing), and your enthusiasm for the event.
NaNoWriMo's YWP's offers suggested low, middle and high Word-Count Goals by grade level. For example, the three goals for a 9th-grade student are 9,000, 12,000 or 18,000 words. You can choose one of the recommended goals or set your own. It's all up to you!
You should make your goal high enough to be challenging but not so high as to be impossible to reach.
Keep in mind that a word-count goal is a lower threshold, not an upper limit.
The default goal for NaNoWriMo's Young Writers Program is 30,000 words, which falls within the recommended ranges for most 11th and 12th-grade students.
You may co-author your novel with a friend (or friends).
Parents are also invited to participate in NaNoWriMo.
Winning NaNoWriMo
You win NaNoWriMo by writing to your word-count goal by midnight on Nov 30 and by validating your word count online before that deadline.
When your word count meets your goal, you win — provided it's Nov 25 or later — you can't win before then, no matter how much you've written.
Every year, there are many, many winners. There are no "Best Novel" or "Quickest-Written Novel" awards given out. All writers who validate their word count online and reach their goal by midnight on Nov 30 receive an official "Winner" web badge and certificate, the opportunity to order NaNoWriMo Winner merchandise, and bragging rights for the rest of their lives.
Ground Rules for discussion:
Respect for each other.
Respect for the variety of types of writing done.
Don't criticize each other destructively — you comments should build up, rather than tear down.
Avoid interrupting each other when speaking in a group setting.
Be positive and encouraging at all times.
Help make the group a safe environment to explore the craft of writing.
Details
All young writers will be expected to have an account at ywp.nanowrimo.org and to join our online classroom.
Young writers are asked to come to each gathering prepared to participate.
Workshops are low-tech or no-tech.

Awesome pencils will be provided by Lindamood-Bell.
A 3-ring binder is recommended but not required.
Handouts from, based on or inspired by NaNoWriMo's YWP workbooks and the NaNoWriMo's YWP high school (9th-12th grades) lesson plans will be provided each week. These handouts were created to spark your imagination and guide you in your noveling journey. The activities will help you create characters, build settings, and hatch plots, plus keep you motivated throughout the noveling month.
There may be "homework" — it won't be collected or graded, but it will be designed to help you prepare for the following week's workshop, complete your novel, and/or prepare your novel for publication.
If you want to receive a Winner T-shirt, order it early — before November! Winner T-shirts are generally shipped in mid to late December. (T-shirts cost about $20 each.)
Some of the skills NaNoWriMo builds:
Creativity: Creating characters, situations, dialogue, and even whole planets from scratch teaches you how to apply your fanciful ideas to a full project.
Confidence: When creating so much text in such a short period of time, you'll realize just how much you can accomplish when you put your mind to it. NaNoWriMo leaves young writers asking themselves, "What's next?"
Time Management: NaNoWriMo teaches students how to tackle a huge project by breaking it down into manageable bites!
Fluency: Writing so much in so little time boosts proficiency in grammar, spelling, and punctuation, and will help you approach future writing assignments with ease and confidence. (We won't be focusing on grammar, punctuation, and/or spelling at our meetings, but you'll have a lengthy document to proofread and edit at the end of the month.)
Overall goals of the NaNoWriMo's YWP lesson plans
Write narratives that engage and orient the reader by establishing a context and point of view, and purposefully organize a sequence of events or experiences.
Write narratives to develop narrative elements (for example, setting, conflict, complex characters) with relevant and specific sensory details
Produce writing in which the organization, development, substance, and style are appropriate to task, purpose, and audience.
Write routinely over extended time frames (with time for research, reflection, and revision) and shorter time frames (in a single sitting or over a day or two) for a range of tasks, purposes, and audiences.
With some guidance and support from peers and adults, strengthen writing as needed by planning, revising, editing, rewriting, or trying a new approach after rethinking how well questions of purpose have been addressed
Custom URL: homeschoolrecess.com/nanowrimo/2018
---
Payment information
Immediately after you register, you will be emailed a registration confirmation from admin(at)homeschoolrecess(dot)com.

Make sure your email filters recognize this address as a legitimate sender. If you don't receive this email, please check your spam, junk or bulk mail folder. Contact the organizer if you are unable to find it; if you receive no response to your email, please call the organizer.

If you need to cancel your registration, please do so via an email request to the organizer.

To help the organizer identify you in the registration database, please include your username and field trip number along with any requests. This information can be found in your registration confirmation email message and on the registration form on this page.
---
Cancellation information
Cancellation deadline: Wed, Oct 31, 2018 - 5:00pm
TO CANCEL BEFORE THE DEADLINE: 
(1) Please let the organizer know as soon as possible via email. 

TO CANCEL AFTER THE DEADLINE: 
(1) Please let the organizer know as soon as possible via email. 
 
TO CANCEL ON THE DAY OF THE EVENT: 
(1) It is not cool to just not show up. Please let the organizer know if you are unable to attend — via email, text message or voice mail. 
---
Additional information
Please arrive by:
Please plan to arrive about 15 minutes early in order to have plenty of time to find parking, check in with the organizer, visit the bathrooms and otherwise be prepared for our program to start on time. Please plan to be early to avoid being late due to inadequate maps, confusing road signs, road construction, heavy traffic, parking difficulties, inclement weather or uncooperative children. 
Where to meet:
On Tue, Nov 6, please meet the organizer in the lobby of the Edinborough Corporate Center. On subsequent dates, you may just go up to the Training Room on the 3rd floor when you arrive. (If the room is locked, you may inquire in the office of Lindamood-Bell.) 
Food policy:
Food and beverages are permitted in the meeting room. Lindamood-Bell will provide light snacks, but you may want to bring your own water bottle.
Alternate plans:
In case of inclement weather, please let the organizer know as soon as possible if your attendance will be affected. In the highly unlikely event that Edinborough Corporate Center closes, you will be notified as soon as the organizer finds out herself!
Parking information:
Free parking is available in the lots on site.
Directions:
Lindamood-Bell Learning Center is located in the inside Edinborough Corporate Center at 3300 Edinborough Way #206, Edina, MN 55435, which on the northeast corner of York Ave S and 78th St W, between the Penn Ave and France Ave exist from I-494. 

The Edinborough Corporate Center is connected to Edinborough Park, home to Adventure Peak indoor play structure.
---
Please login to register for this field trip.
If you have already registered for this field trip, please login to view your current registration status.
---
Groups: