Sammy Perrella's Pizza & Restaurant
Location
445 99th Ave NW
Coon Rapids
,
MN
55433
United States
45° 9' 1.3104" N, 93° 16' 37.7148" W

Imagination Fair exhibitors, mentors, guests and their families are invited down the road for lunch at Sammy Perrella's Pizza & Restaurant after the Imagination Fair!
There is plenty of space to accommodate a large crowd, and half the restaurant will be set aside specifically for Imagination Fair attendees. (Should we fill that space, they are prepared to just have us spill over into the other half of the restaurant — the two halves are separated by a row of booths, not a wall, so we'll still be in the same room together.)
While an RSVP is appreciated, it is not required — just arrive between 12:30pm and 1:30pm and identify yourself as part of the Imagination Fair.
Sammy Perrella's Pizza & Restaurant has a fabulous buffet … or order gluten-free pizza from the menu.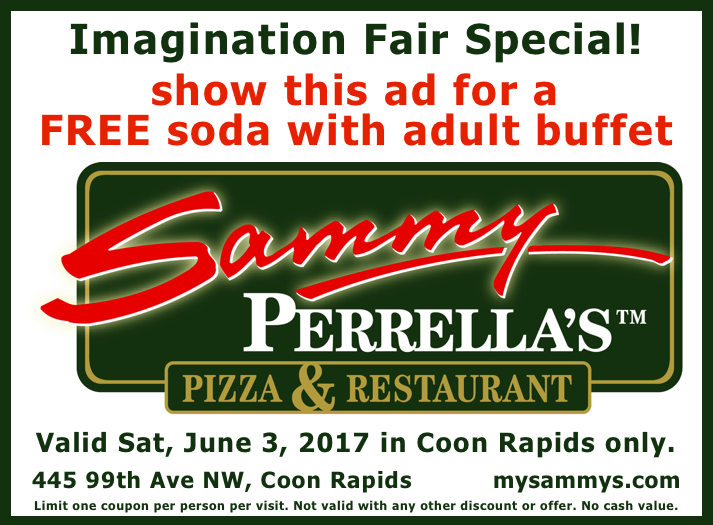 All-you-can-eat lunch buffet is available from 11am until 2pm daily and includes pizzas, pastas, chicken wings, garlic bread, soups and salad bar.
Prices are subject to change but are currently $10.49 for ages 11 and up and $6.49 for ages 10 and under. Beverages (soda, coffee, juice, milk) are separate but your Exhibit Catalog will have a coupon for a free soda with an adult buffet purchase.
Gluten-free pizza is not on the buffet but can be ordered from the menu. Again, prices are subject to change but a Gluten Free Pizza is currently $13.30.
Additional Menu items include appetizers, brick oven-baked pizzas, pastas, sandwiches, broasted chicken, soups, salads, desserts, and more!
Map: from Peace Lutheran Church to Sammy Perrella's: goo.gl/maps/eSZokfUDiwn — it's just a quick 5 minute drive.