| | |
| --- | --- |
| | Visit the Imagination Fair on Flickr to see photos of past Imagination Fairs. |
Saturday, June 3, 2017 — 10am-12:30pm
20 Northdale Blvd NW, Coon Rapids, MN 55448
---
What is an Imagination Fair?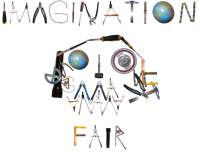 The Imagination Fair was created to accommodate those creations that fall outside conventional categories of the traditional science fairs, tech fests and art shows: board games and video games, music, animations and performances, novels, short stories and comic books, contraptions, LEGO® masterpieces and MINDSTORMS® marvels, robots, rockets, models, architecture, dioramas, and other products of the imagination that either don't fit into the traditional art show categories or must be distorted to qualify as a traditional science fair project.
The Imagination Fair is more than an art show! More than a science fair! More than a tech fest! It's a space for homeschooled children of all ages to display, demonstrate and discuss the products of their creativity.
While the Imagination Fair welcomes traditional artistic endeavors and scientific explorations, it's also the perfect place to showcase your child's "outside the box" creativity!
Certificates of Participation
The Imagination Fair does not rank projects, but invites mentors from all walks of life to sign up to talk to the children about their projects.
Children receive a "button sticker" on their participation certificate from every mentor who talks to them.
We are aware that "mentor" is not the right word for this, but we couldn't come up with a better one — suggestions are welcome.
---
I really encourage you to consider this for your kids if you aren't already as it was a **great** opportunity for them to share their wonderful ideas, to practice speaking to people about their joys and to just have a lot of fun checking out one another's cool interests. Last year my son exhibited his YouTube channel and his Viking rune board game The Hawk and the Wolf. I LOVED watching him be a part of this and he really surprised himself! He was so buoyed up by the interest of others it was really very good for him. I was so impressed with the variety of the kids' projects and their zeal in explaining their processes in completing the projects. There were science projects, art projects, and tables full of stuff that the child just loved studying. The best part was that the vibe in the room was great, kids coming together to share things they love. It was one of the highlights of our year, to be sure!" — Janis
---
Who may attend?
Registration is open to homeschooled students of all ages.
The Imagination Fair is an all-volunteer zero-profit secular, inclusive homeschool event. We do not discriminate based on race, color, national origin, ancestry, age, gender, familial status, marital status, sexual orientation, gender identity and expression, disability or handicap, veteran status, economic status, religion, or homeschooling philosophy or style.
The Imagination Fair is serious about inclusivity. All homeschooled children are welcome to participate.

Guests: The community is invited to come and see all the amazing products of the imagination, and participants are encouraged to invite their friends and family to attend the Imagination Fair as guests.
All guests are encouraged to consider volunteering as a mentor.
---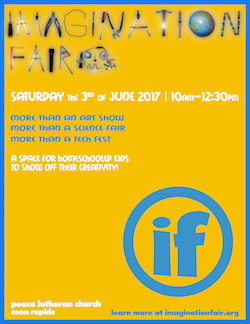 How can I help?
The Imagination Fair Make-It-Happen group is coordinated by Nic Rosenau. She is seeking other homeschool parents (and community members) to help organize the 2017 and 2018 Imagination Fairs. You can volunteer to help organize the Imagination Fair by joining the Yahoo Group at groups.yahoo.com/group/ImaginationFair
Volunteer to participate as a mentor at the 2017 Imagination Fair
Spread the word! Talk to your friends and family about participating in the event as exhibitors, mentors, advertisers, sponsors and guests.

Place an advertisement in the Exhibit Catalog to simultaneously promote your organization and help cover the costs of the Imagination Fair.
Donate small prizes for the Exhibit Bingo game.
Make a cash donation. The Imagination Fair is an all-volunteer zero-profit endeavor, but it is not recognized by the IRS as an official 501(c)(3) non-profit organization. If you'd like contribute to help cover costs, please contact us at imagine(at)hsadventures.org — just understand that any contributions made will not be tax deductible.
Help find a no-cost or low-cost location for the 2017 Imagination Fair (please review the space requirements first).
---
How does my child sign up?
Register at homeschoolrecess.com/imagine/2017.
---
How much does it cost?
Expenses for the Imagination Fair came to about $8 per exhibitor. We hope to once again defray the cost through donations and exhibit catalog advertising sales.
The organizers are asking for $8 per half-table to cover those expenses, but we also offer a scholarship rate of $4 per half-table, which is available on request.
Advertising space in the Exhibit Catalog is offered to help offset the cost of the fair. You can help ensure that we do so by encouraging your friends and local businesses to place an ad in the Exhibit Catalog or to become an Imagination Fair sponsor.
---
| | |
| --- | --- |
| | The Imagination Fair is organized by members of Homeschool Adventures which provides a support structure and network for individual homeschoolers to set up successful homeschool events. |
Contact Information: imagine(at)hsadventures.org
Location