Personal Symbol Printing
When:
Wednesday, November 1, 2017 -

1:00pm

-

2:30pm
Where:
Location
1011 Washington Ave S, Suite 100
Open Book Building
Minneapolis
,
MN
55415
United States
44° 58' 31.4904" N, 93° 15' 15.03" W
Who: This workshop is designed for 7th grade and up (typically 12 years and up).
Younger siblings are welcome to join if a parent or other responsible adult is willing and able to serve as their classroom assistant. Participating parents are also welcome. Due to space limitations, only enrolled students and activity engaged chaperones and PCAs may be present in the classroom. Please read the parent policy below.
How much:
Cost for Child/Student: $18.50
Cost for Participating Adult/Student: $18.50
Cost for Adult Chaperone or Adult PCA: $0.00
Cost for Postage and handling (for those not taking additional workshops): $2.50

Please register by: Tuesday, October 10, 2017 - 5:00pm
---
Description
Ala Carte Registration Opens September 12 if spaces remain.
To registration for the complete Printmakers series, visit homeschoolrecess.com/ft/25577.

This is the second workshop in a 7-workshop series led by teaching artist Cindy Gipple and organized by Nic Rosenau. It was designed by Séamus Blake, Cindy Gipple, and Angela Hed Vincent.
This unique series of workshops is limited to just 10 students ensuring individualized attention and plenty of "elbow room" for the creative process.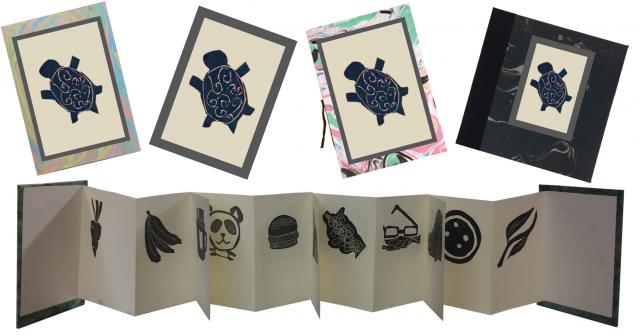 Design a personal symbol to mount and print on the printing press!
A personal symbol is an image that is unique to you! Students should arrive with an idea for their own personal symbols. Before the workshop, students should take time to think about objects and actions that carry personal meaning for themselves, considering images that represent important aspects of their personalities, their heritage, or convey an important message about who they are. No numbers, letters or family crests, please!
The images will be cut into a Speedball Flexible Printing Plate. These plates are made of a vinyl material that is soft and flexible and can be cut with school scissors or linoleum cutters.
Once all personal symbols are created, the symbols will be placed together on a print plate, inked with a teal ink, and then each student will get to crank the printing press handle to run one sheet through the printing press to print his or her own copy.
Learn more:
Your completed print will be used to as the interior of a 5x3½-inch hardcover meander symbol book covered with Suminagashi marbled paper. The result will be a unique limited-edition meander book.
Students who complete all workshops in the series use their own Suminagashi marbled papers to create a 5x3½-inch hardcover meander personal symbol book, a 7x7-inch two-pocket hardcover case, a softcover pamphlet-stitched book, and an origami wallet. A final workshop will explore the printing press — including pressure printing a multi-tone image and typesetting a word of short phrase for the sign printer.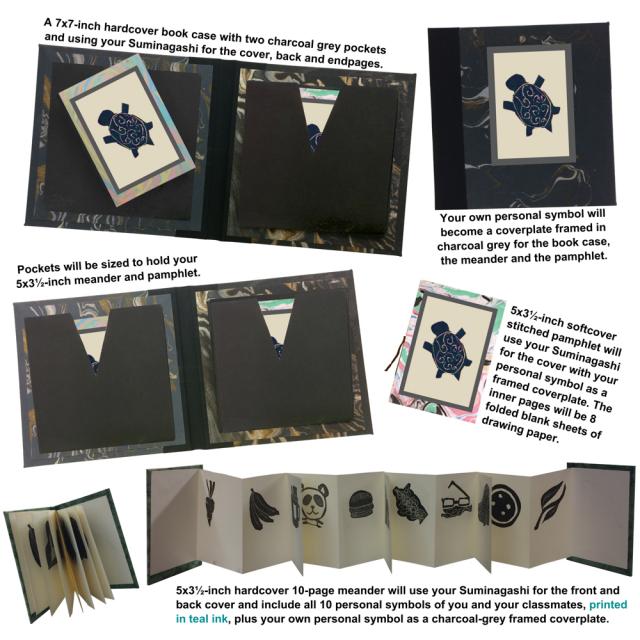 ---
Payment information
Payment must be received by: Fri, Oct 13, 2017 - 5:00pm
Please plan to send your payment the same day that you register.

The organizer will expect to receive your payment within 3 days of your date of registration — or by the payment deadline above, whichever comes first.

The organizer needs your full payment by the payment deadline so that she can pay MCBA on time.

Immediately after you register, you will be emailed payment instructions from admin(at)homeschoolrecess(dot)com.

Make sure your email filters recognize this address as a legitimate sender. If you don't receive this email, please check your spam, junk or bulk mail folder. Contact the organizer if you are unable to find it; if you receive no response to your email, please call the organizer.

You are not officially registered until the organizer receives your payment.

When the organizer records your payment, you will be emailed a payment receipt from admin(at)homeschoolrecess(dot)com.

If you've sent your payment and haven't received a payment confirmation, please contact the organizer by email or phone.

If the organizer doesn't receive payment within 3 days of your date of registration or by the payment deadline, whichever comes first, the organizer may remove your family from the registration list.

You will be notified with an email from admin(at)homeschoolrecess(dot)com should this unfortunate event occur.

If you are unable to send payment immediately, please contact the organizer to make other arrangements. This protects the organizer from non-payment due to payment instructions blocked by overly aggressive spam protection.

If you need to cancel your registration, please do so via an email request to the organizer.

Non-payment is not an acceptable way to cancel your registration. If you wish to cancel, please be respectful of the volunteer organizer's time and send an email request.

If you fail to send a cancellation request by the cancellation deadline, you will remain responsible for reimbursing the organizer for the cost of your family's participation.

To help the organizer identify you in the registration database, please include your username and field trip number along with any requests. This information can be found in your payment instructions email message and on the registration form on this page.
---
Cancellation information
Cancellation deadline: Tue, Oct 10, 2017 - 5:00pm
TO CANCEL BEFORE THE DEADLINE: 
(1) Please let the organizer know as soon as possible via email. 

TO CANCEL AFTER THE DEADLINE: 
(1) Let the organizer know as soon as possible via email. 
(2) No refunds can be made as the organizer has already paid for your workshops. 
(3) You may transfer your registration to another family by posting the availability to the HSAdventures Yahoo Group (and elsewhere as appropriate). 
(3a) Any reimbursements should be handled privately between you and your substitute. 
(3b) Please let the organizer know about the substitution. 
 
TO CANCEL ON THE DAY OF THE EVENT: 
(1) It is not cool to just not show up. Please let the organizer know if you are unable to attend — via email, text message or voice mail. 
---
Additional information
Please arrive by:
Please plan to arrive about 15 minutes early in order to have plenty of time to find parking, check in with the organizer, visit the restrooms and otherwise be prepared for our workshop to start on time. Please plan to be early to avoid being late due to inadequate maps, confusing road signs, road construction, heavy traffic, parking difficulties, inclement weather or uncooperative children. 
Where to meet:
Please gather in the lobby of Open Book, by the coffee shop, unless directed elsewhere by the staff. Please check in with the organizer when you arrive. 
Food policy:
No food or beverages inside the classroom. Open Book Café is located in the lobby on the first floor for before or after gathering snacks.
Alternate plans:
MCBA has a policy of not cancelling workshops due to adverse weather. Should MCBA cancel the workshop for any reason, any refunds would be at the sole discretion of MCBA. 
Parking information:
There is limited free parking is available in the Open Book lot adjacent to the building, and metered street parking, pay lots and public ramps are all available nearby. Reserved handicapped parking spaces are located near both the front and rear entrances to the building. Please do not park in spaces reserved for building tenants or staff. Be advised that events in the building may limit availability of spaces in the Open Book lot and that Metrodome events can affect parking availability in the neighborhood.
Directions:
The Open Book building is located in downtown Minneapolis on Washington Ave. S. between 10th and 11th Avenues, near the Metrodome and just across I-35W from the University of Minnesota's West Bank campus. 

Bus: MCBA is located on Metro Transit bus routes 7 and 22. The nearest stop is at Washington Ave. S. and 11th St., just down the block from Open Book's front doors.

Rail: MCBA is located five blocks east of the Downtown East/Metrodome light rail station.

---
Please login to register for this field trip.
If you have already registered for this field trip, please login to view your current registration status.
---
Groups: